A make-up that joins the expression of gesture and text to create a collection of posters in honor of four outstanding types designers.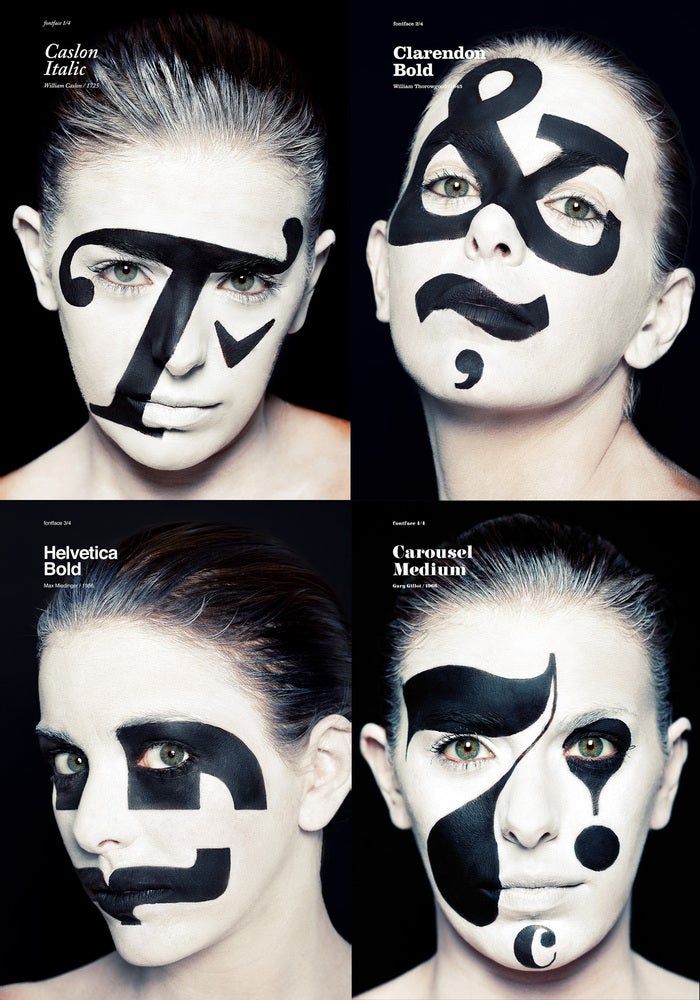 You can purchase this poster collection from Atipo at http://www.atipo.es/
---
How they did it Video
Check out this cool video of the makeup session.


Here's a fact: Colors can make or break your design by either making your audience want to stick around or look away. Well-chosen color combinations help designs catch attention more while the less planned ones do the opposite. In fact, there are colors that work so bad together that they could literally hurt the eyes when you stare or would hinder you from understanding the accompanying texts or images. On the other hand, great color combinations don't just help catch people's attention; they help sustain interest as well.
However, even the best designers could run out of ideas sometimes. Good news is, there exists many color scheme generators that will help even the most uninspired to choose what colors to use. youthedesigner.com has listed 20 online tools to help you out. Check them individually and see which software will help you in specific design-related tasks.
Click HERE to visit youthedesigner.com. Enjoy!

Here's something I found that I just HAD to share with you. It's a great film from Team Cerf, a group of animation students who recently graduated from the French animation school Supinfocom:
Buck is an ordinary guy. Well…except the "deer head" thing. And today, Buck is gonna spend this cool Sunday afternoon with his girlfriend who's so happy to see him (she's pretty much always happy). But when Buck find out that her father is not the sympathetic and tolerant guy he expected, the Sunday afternoon turns really bad.
CREDITS
Directed by Denis Bouyer, Yann De Preval, Vincent E Sousa and Laurent Monneron
Sound Design by Julien Begault
Music by Yannis Dumoutiers and Mickaël Védrine
This post by Scott Miller gave me a chuckle. It was interesting to see a corporate sales reference played out with the cast of the Jetsons duking it out for corporate control. Check it out.
A Tale of Two Sales Teams:
Cogswell Cogs vs. Spacely Sprockets
It was the best of times, it was the worst of times..
Cogswell Cogs and Spacely Sprockets sell the exact same product, from the customers stand point that is.  Both are very high-tech companies, with impressive client lists, and make sizable investments in R & D and marketing. There is a healthy debate as to which one is higher on the Fortune 500 list. Both Cogswell Cogs and Spacely Sprockets claim they were first to market with a "Software as a Service" widget.  They have the exact same spot on Gartner's magic quadrant and charge the same monthly amount for this widget.
Over the past 6 months, Cogswell Cogs has been killing Spacely Sprockets with the new SaaS widget selling 10 new units to their rival's 1. The analysts have been quizzing the leadership at Cogswell – without any clear advantage in industry experience, pricing, technology, or fiscal stability, how can they explain such a discrepancy in sales?
6 months ago, the leadership at Cogswell examined their sales forecast and saw an alarming trend. Half of their forecasted deals were either lost to Spacely Sprockets or to no decision.  These were deals on the forecast.  The leadership decided that this trend that was no longer sustainable – they were a 6 sigma shop after all.  They decided they were going to start with the end in mind and uncover why a forecasted deal would ever fail to close.
Their research showed that when Cogswell Gogs lost a forecasted deal, it was due to one of or all of these three factors:
The buyers couldn't tell the difference between the two vendors, so they selected Spacely Sprockets for reasons having nothing to do with feature, financials, experience, or price.
The buyers couldn't justify the costs, so they didn't make any purchase
The buyers couldn't come to a consensus on who to purchase, so an individual they hadn't spoken to made the decision.
As a result Cogswell Cogs deployed a strategy to combat these three factors:
Competitive Strategy: Cogswell Cogs would make it a focus to find a point of competitive differentiation where none had existed before: the sales force.  The individual sales person would take a much more proactive role in the sales process.  They were held responsible for understanding the pains of every potential stakeholder impacted by their solution and linking specific benefits to solving those pains.
Closing Strategy: Cogswell Cogs made a point of withholding the proposal until they had collaborated with the prospect to build a business case for the widget. Also, no opportunity would make it on the forecast without first an understanding of the source of urgency, or a date when they could no longer go without the widget.
Political Strategy: Cogswell Cogs would make it a point to speak to every potential stakeholder, particularly the C-suite, and sell to them in a language they would understand: risk. The higher a sales person finds themselves in the org chart – the more a potential stakeholder has to lose (or gain).
Spacely Sprockets on the other hand hasn't really changed how they sell.  They are more reactive in their sales process and cling to the operational stakeholders like a drowning person does a life preserver.  Their discovery process is focused on break / fix with no discussion on impact. The demo of the SaaS widget is the same canned presentation they have been doing for years.  Pricing is handed out without cost justification.  When the proposal was handed to the prospect an inevitable dead period would follow.
Six months ago, Spacely was winning about half of their deals. Now the dead period stays dead.
Cogswell Cogs has found a way to create competitive advantage where none had existed before – the sales force.
What used to be a WordPress vs. Blogspot battle is now more like WordPress vs. Joomla & Drupal. The once relatively unknown, blogger platform has grown up and adopted a name for it's self as one of the most user friendly content management tools, used by everyone from Bieber buffs to established businesses. In fact, WordPress is used by over 13% of the world's 1,000,000 biggest websites. So what's the difference between WordPress, Joomla & Drupal? What are the tradeoffs? What CMS is best for your business?
It is widely known that WordPress is gaining momentum. Their main value proposition is the ease of use with the user interface and back end system. Drupal is widely known to offer a wide variety of features with their CMS system. Drupal is popular for its scalable potential and ability to grow with a business. WordPress, Joomla! and Drupal are similar because they offer the ability to add plugins for virtually anything from SEO to security, widgets and themes. A draw to this system is that there is no need for FTP access. Drupal's myriad of plugins are very functional however they aren't as easy to use as WordPress or Joomla, but they are more customizable.
Joomla! and WordPress are both known for their user-friendly interface. Drupal, however may be able to last you a bit longer, but also take some time to master. For those looking for slick web design and creative plugins, Joomla! and WordPress take the cake. For those looking to optimize things such as load times and performance, while planning for the future, think Drupal. Take a look at the 2010 numbers comparing all three platforms:
According to the OSCMS Report:
Downloads Per Week in 2010
WordPress 983,625
Joomla! 113,836
Drupal 33,671
What Are Most Sites Running On?
WordPress 12.9%
Joomla! 2.5%
Drupal 1.4%
Any Preferred CMS and if so, which one?
Joomla! 1105
WordPress 278
Drupal 318
---
Download the complete OPEN SOURCE CMS MARKET SHARE REPORT PDF
HERE.
MyFonts has posted a great interview of one of my favorite typographer/designers Chank Diesel. Go check out the full story here. Here's an excerpt: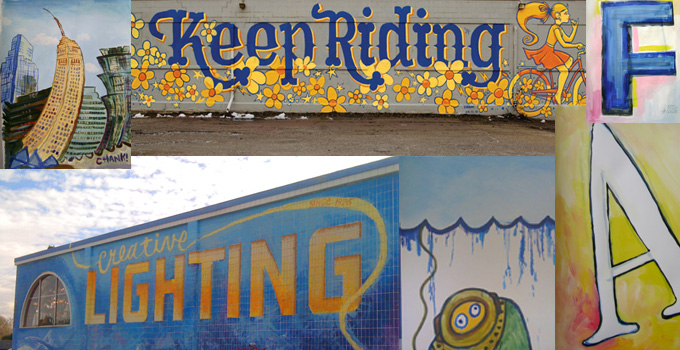 How did you start working with type in the first place?
I was working on a music magazine called CAKE back in the day, and I created some fonts for myself to use in the magazine. When people saw those fonts, they wrote to me asking how they could buy them. I never set out to be a font company; I was just a guy making fonts. But once I started selling fonts, I put more effort into it.
I've always enjoyed working with the alphabet. I learned from watching Sesame Street, which has been there my whole life. I'm a lefty, so my handwriting is naturally awful. In 6th grade I was held back after school to work on improving my handwriting and that was my favorite part of the day. And since I was told at an early age that my handwriting is not so good, I've been working my whole life at improving my type-drawing skills, and I think I may have over-compensated a bit.
You're a specialist of what people call "fun fonts." Many type designers of your generation gradually abandoned the fun stuff for serious book faces and large families. Do you have any ambitions in that direction?
A serious book face? Like for books on paper? Hahahahaha! Nah, not really.
Seems to me it's more important to make fonts that look good on phones, iPads, Kindles and other electronic devices. The fonts made for those devices will look very different from serious book faces, but I hope they won't look all bitmappy and grid based. I want to make human-inspired fonts that look good on digital devices; that's much more important to me than making a fancy book font.
I always imagined I'd spend ten years at some point making a fine, seriffed text font that would exemplify all my skills and flair and serve readers for generations to come. But as of today I just have no interest in working on a font like that. I would, however, like to make a display font with multiple serifs on each stem; I've got a font like that in my head, but I'm pretty sure that's another fun font, and not a text font.
I like making large font families and do those sometimes, but those often confuse the casual font user, and I don't want to alienate those people. Most people can grasp regular, bold, italics and bold italics. When you add mediums and extrabolds and superlights and condensed and extendeds and all that stuff it's like you're pandering to fancy-pants high-end designers, and they don't really want to use my fonts anyway. So I try to focus more on original, flashy, display fonts that come in a single weight.
I do also really enjoy adding extra language support to my fonts, so more people can use them. I've added Central European character support to many of my fonts, plus a few sets of Cyrillics. I wish there was more money to be made making Cyrillic fonts, but I haven't really found a way to monetize that yet. But I really love the Cyrillic alphabet; those backwards Ks are so cool, and I love the small-cap style in some of the lowercase letters.
Want more? Head over to MyFonts and get the whole interview.
Much of design critique is focused on photography and other graphics. It's time to shed light on the most basic element of communication: the type. At Fonts In Use they catalog and examine real-world typography wherever it appears — branding, advertising, signage, packaging, publications, in print and online — with an emphasis on the typefaces used.
---
AnOther and AnOther Man Magazines
Gareth Hague's inventive type families embrace the eccentric spirit of an independent publishing enterprise.
---
They start with a regularly updated collection of case studies and trend reports. They invite experts from various fields to comment on how type is used (and misused) in graphic design today. In earlier installments, magazine designer Marc Oxborrow has an emotional reaction to the redesign of Bloomberg Businessweek, the Font Bureau's Sam Berlow notices that the type specimen has become a design genre, FIU pointed to how some recent projects in which type — and especially typeface selection — played a central role, and instructor and historian Indra Kupferschmid reminded us that the real Bauhaus wasn't all geometric and experimental letterforms.
---
The Chop Shop
Ptarmak designed an identity so appealing, someone should launch a meat market just to adopt it. Ptarmak designed an identity so appealing, someone should launch a meat market just to adopt it. Here's a link to the post.
As you can see, it's solid read for real typophiles. Go see what they've been up to recently. Check out the video below being highlighted in the article "Education First – Live the Language: Paris", then hit the website HERE.
EF – Live The Language – Paris from Albin Holmqvist on Vimeo.